What Are Napier 7 Series Turbochargers?
The 7 Series napier Turbo is the core turbocharger product from napier, offering performance trusted by many for over 20 years. Built for marine, rail and power generation, the Series 7 Turbochargers make use of the latest innovations and technology, ensuring high performance through lower emissions and fuel use.
Napier 7 Series Turbocharger Spare Parts and Servicing
Global Turbocharger Solutions are independent suppliers of napier turbocharger compatible parts and have extensive knowledge of napier turbochargers, allowing us to offer expert repairs and servicing options. We stock napier spares for the napier 7 Series, as well as offering servicing options for these industrial turbochargers. Our servicing options including Series 7 napier repairs, re-manufacturing and general maintenance.
5 Benefits Of The Series 7 Industrial Turbocharger
The 7 Series napier turbo compressor has a wide compressor map that uses anti-surge technology to increase the surge margin, making it highly durable and cost effective.
The napier turbocharger has optimised airflow to allow better performance. This uses the lowest possible amount of fuel.
The napier turbo bearing and casing on the 7 series are built to ensure reliable results.
Built with a innovative shaft sealing meaning there's no leaks even with low engine loads.
The napier 7 Series is air cooled and can operate at higher pressures compared to any previous napier turbocharger series, making it a superior product.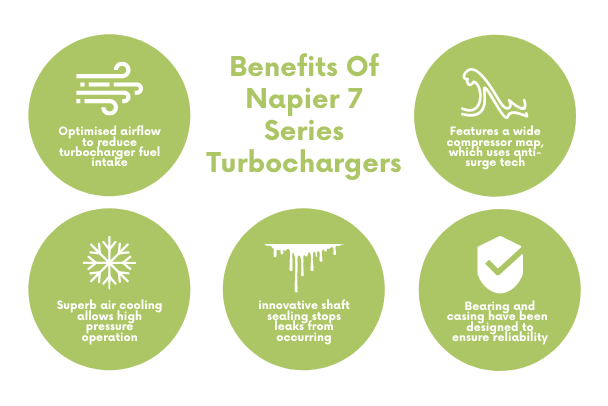 Which Napier 7 Series Models Do We Stock Spare Parts For?
NA297 Turbocharger: The NA297 napier turbo model has a maximum engine output of 3.5MW and is the smallest model in the Napier 7 Series. The NA297 turbocharger pressure ratio is 4:8:1, it is 900kg in weight and 1520mm in length. Get in contact with GTS to find out about our NA297 replacement parts, as well as the napier 7 servicing options that we have to offer, such as NA297 repairs.
NA307 Turbocharger: The NA307 napier model is the second smallest model in the napier Series 7, with a maximum engine output of 4.5MW. The NA307 turbocharger has a pressure ratio of 5:3:1, is 925kg in weight and 1520mm in length. GTS stock a wide range of NA307 replacement parts and offer napier 7 repairs, rebuild and reconditioning.
NA357 Turbocharger: The NA357 turbocharger has a maximum engine output of 6.5MW and a pressure ratio of 4:8:1. This Series 7 napier model is 1700kg in weight and 1900mm in length. We stock a range of spare parts for NA357 turbos, as well as offering repairs, maintenance and rebuild services.
NA457 Turbocharger: The NA457 turbocharger is a highly efficient model in the napier 7 Series. We offer NA457 spare parts, including the Series 7 shroud ring replacement. Our range of NA457 replacement parts also include the bearing sleeve compressor, air oil seal bush and bearing bush, amongst many others.
NA397 Turbocharger: The NA397 turbocharger model has the highest power out of the napier 7 Series. NA397 is 1710kg in weight and 1910mm in length. We offer spare parts for NA397 turbochargers, as well as our repair service which can be offered in the field to reduce your businesses downtime.
Get In Touch To Discuss Napier Series 7 Enquiries
Our napier turbo experts are here to help with all of your enquiries, aiming to ship napier Series 7 Spares with a short lead time so that you can get back to business. Global Turbocharger Solutions are open 24/7 and even offer a napier turbo repair field service so that we can get out to you quickly if you don't have the time to send your turbocharger to our workshop facilities.
We offer a range of napier compatible spares, including spares for discontinued turbochargers. All of our napier spare parts are vigorously tested before use to ensure optimum performance. For all your enquiries please call us on +44 1522 702025 or find our full contact details by clicking here.