When napier turbochargers break down, it might seem easy just to find a replacement and carry on as normal. However, replacing your napier turbocharger is not as great an idea as you might think. Repairing napier turbochargers can be much more cost-efficient and can be quicker than waiting for a new part to be dispatched, delivered and installed. Below, we have outlined some of the key reasons why you should consider a napier repair rather than a replacement.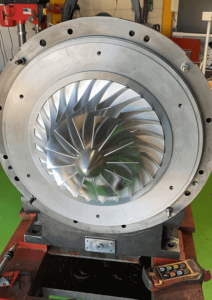 A Rebuild Can Be More Cost-Effective
In the long-term, napier turbocharger repairs are a more cost-effective solution than buying new. Especially when our highly trained specialists are taking care of the repairs, you can be sure that work will be completed to the highest standards, leaving your napier turbocharger performing at its best again. So, why fork out a fortune when your napier turbo can be just as good as a brand-new replacement?
You Might Not Require A Full Replacement
Replacing an entire turbocharger could be a massive waste of time and resources, especially if the cause of a breakdown is due to a single part or system failure. Our napier turbocharger specialists will conduct a full examination of your turbocharger, not only fixing any broken parts, but also identifying any causes for future concern. By spotting the early signs of wear or damage, our Lincolnshire napier experts can help you to avoid a future problem. This way, you can avoid any nasty unexpected surprises and expensive costs, giving you peace of mind that your turbo is in full working order.
A Rebuild May Be Much Quicker
You may be tempted to believe that a brand new turbocharger replacement will be the quickest option to getting operations back to normal when you face a breakdown, but this isn't always necessarily the case. This is because some industrial turbocharger parts may take a long time to source, or could have a long lead time. So, the best alternative is to go for a turbocharger repair or full rebuild. We offer a fast napier turbocharger repair service, whether that be in our workshop or a field repair. Downtime is significantly decreased by our napier turbocharger repair specialists, who will try and keep disruption to a minimum. With our 24/7 napier repair service, we can get you back to business as quick as possible.
A Replacement May Be Hard To Source
Not only may a replacement take longer to arrive and install, but it might also be difficult to source. The industrial turbocharger spare parts that you need might be sparse or discontinued, so a repair could be the only realistic option. Having said that, we offer a wide range of discontinued turbo spares at GTS, which may come in handy when you need it. Looking for a particular turbocharger spare part? Give us a call and we'll tell you if we've got it available.
We'll Restore Your Turbocharger To New
Why fork out on the hefty cost of an entire replacement, when a repair or rebuild could cost a fraction of that price? At GTS, we have the most up-to-date machinery, advanced technologies and experienced staff to help restore your industrial turbocharger to full working order. With an expert repair or rebuild job, an existing turbocharger can be made as good as new, and you'll benefit from our recommendations for future care too.
To learn more about our napier turbocharger repair services, rebuilds or remanufacturing, get in touch with our Lincoln turbocharger specialists on 01522 702025 or click here to email us.